I'm going to start this off with a disclaimer: Vladimyr Derisier is a friend of mine, and we both performed on the RLJ Formation Team back in days of dance yore.  That said, I still think this is a pretty good deal.
It all started when a friend of mine sent me a link to the latest CBS Boston Deal, saying "These names looked familiar, thought you may know them."  It was a coupon for three private ballroom dance lessons for $90.00.  Sure enough, I did recognise the names, and quite well.  I knew Lilia through the dance realm, and I was so close with Vlad that I dragged him to a holiday party as my date once (Thanks, Vlad!).
Giddy about the deal simply because I knew the people associated with it, I messaged Vlad to call him a coupon.  Once we established that I did not have Turrets Syndrome and briefly caught up, he asked me a small favour to "wag my tongue" about a new deal at his studio.  Commence shameless plug!
In addition to their CBS deal, Ballroom in Boston is trying out a new package deal: unlimited group classes and a social pass for $40.00 a month.  For those of you who aren't familiar with the financial requirements of taking ballroom classes, allow me to crunch some numbers for you:
Group classes typically cost between $10 and $15 each (they are $10 at Ballroom in Boston).  Socials cost about the same.
If you want to be conservative and only take one class a week and two socials a month, you're spending at least $60 a month already.
Let's be realistic, though: dance is awesome, and you get sucked into taking three classes a week and four socials a month.  Now one week costs you $40, and at the end of the month you're out $160.  Where did you find that money tree, and was there another one??
Okay, so now let's go above and beyond: Ballroom in Boston offers 16 classes a week (give or take), and you love them ALL, and of course you have to show off your moves every week at the social. That's $170 per week, and $680 per month.  Perhaps I should have looked into a career in brain surgery.
But wait!  What do you mean you can save $660 and still take all those classes!?  Now go ahead and tell me a $40.00 unlimited pass isn't an excellent purchase decision.
Today's Tunes
"Careful Where You Stand," Coldplay
"Lover Lay Down," Dave Matthews Band
"King of Pain," Alanis Morissette
This weekend, I managed to escape my part-time job briefly to catch some of my friends compete at the Yankee Classic, held at the Boston Marriott Cambridge.  As some of you may recall, I used to enjoy competing myself not too long ago, but I had to take an indefinite hiatus from dancing in order to focus on more pressing matters . . . such as as graduating.  Obviously I would have loved to have stuck with the dancing, but I've been surviving well enough without it.  While I was excited about seeing my friends dance again, once I arrived at the competition, I was reminded of all the things I didn't miss: fake tanning, expensive entry fees, pre-comp stress, hordes of ill-behaved children, and other less delightful aspects.  For most of Friday night, I was firmly convinced that I would never get into competitive dancing again.  Yes, I miss dancing, and I've been making more appearances at social venues, such as Ryles Jazz Club, Balera School of Ballroom Dance (my fantastic dance studio), and, once this rain lets up, Spice Bokx at Hotel Indigo on Monday nights.  I really haven't been experiencing any competition longings.
That is, until late Friday night, or perhaps on Saturday night.  Seeing all of my friends celebrating their competitive and performance victories left me feeling slightly left out, and many of my acquaintances from the dance realm asked me when I would be returning to the competition circle.  I wasn't planning on it, but I do miss wearing those pretty dresses . . .
So, here it goes: gentlemen, if you are a Standard dancer over 5'7", and would be interested in practising and maybe competing Amateur, shoot me a message.
I'm not expecting anything any time soon, but I'll keep you all posted.
Tonight's Tunes
"Love of My Life," Santana Feat. Dave Matthews
"Don't You (Forget About Me)," Simple Minds
"Lady (Club Mix)," Modjo
"Say It Right," Nelly Furtado
"Lebanese Blonde," Thievery Corporation
In my efforts to act like a somewhat mature adult and keep my priorities in line, I've taken a hiatus from dancing until I've scored a sweet job that will [more] easily pay for it (for those of you who have any interest in tracking my professional progress and musings, toodle over to my other blog: The Adventures of Corporate Barbie).  I'd been handling the sacrifice pretty well so far, being so busy with the world's worst scavenger hunt that I didn't have too much time to think about how dance deprived I was.
As of yesterday, it's been two months since I've been to Balera.  Suddenly all those urges to salsa in public (and often unfitting) places made much more sense to me.  Granted, my friends and coworkers will never hesitate to confirm that setting has never stopped me from busting a move, but the silliness I do at work isn't the same as the groove in which I lose myself when I'm with someone on the dance floor.
Today, I caught up with Johnny, one of the co-founders and co-owners of Balera, and learned that the studio will be hosting a theatrical showcase, Balera's Hideaway Presents "Theatre Showtime" and Speakeasy Social, this Saturday, April 25, from 6.00 P.M.
to midnight.  Johnny couldn't emphasise enough that this isn't just any studio showcase: it is going to be a '20s-themed theatrical production, complete with narration and vocal performances by Ron Murphy.  The show will run from 6.00 P.M. to 8.00 P.M., and if I'm not mistaken, the floor will open up for some speakeasy social dancing afterwards until the end of the night.  There will also be a buffet dinner.
And I may get to cut a little rug.  Maybe.  I'm not counting on it.  But if I go (which I will do all in my power to accomplish), I will not tolerate an evening of sitting on my decked out posterior.  So gents, grab your fedoras.  Ladies, drop your dresses' waistlines, and knock upon the wrought iron window for a promising evening of music, dance, and generally good times.
Tonight's Tunes
The Best of George Harrison, George Harrison
As you may recall, I had a competition this weekend.  For me, a competition typically entails a week of tanning, three (or more) weeks of stress, and months of practise.  This time I just opted for the week of tanning.
Okay, so maybe that wasn't a premeditated decision.
Johnny and I decided to dance on Tuesday.  Our events were on Friday.  Frankly, I didn't have time to stress, and you can imagine that we didn't squeeze months of practise into three days.  Given the circumstances, though, I can't complain too much about our results.  I won't get into specifics, but I will say that I managed to bring a few blue ribbons home, and that my video from the event didn't totally nauseate me.  The weekend was successful and fun, but that's not to say that I'm satisfied with my dancing.  Nope, not by a long shot.  I'll be competing with Johnny later this year (either Tri-State in March or Yankee in June), and percentages of blue ribbons I acquire aside, I have a lot to do before then.
Overall, Balera had a great weekend.  In Pro-Am, Russell's students took first in Bronze Standard and Silver Rhythm, Vivian's students took first in Silver Rhythm, and of course Johnny and I had sported some blue ribbons in the Silver Standard category.  In the amateur ranks, Balera occupied three fifths of the Open Rhythm final, earning second, third and fourth positions.
Today's Tunes
"It's a Man's Man's Man's World," Seal
"Shadows," Blue Man Group
"Brown Derby Jump," Cherry Poppin' Daddies
"Cream," Prince
"Politik," Coldplay
"Can I Tico Tico You," Lou Bega
I stand before my computer in the second most uncomfortable state I know, the first being physically injured or ill: waiting for my tanner to dry.  Although not painful, it is incredibly awkward and, frankly, pretty vile.  It's sticky, smelly, dries out the skin, and stains clothes.  And, all too often does it turn out orange, as opposed to toasty brown.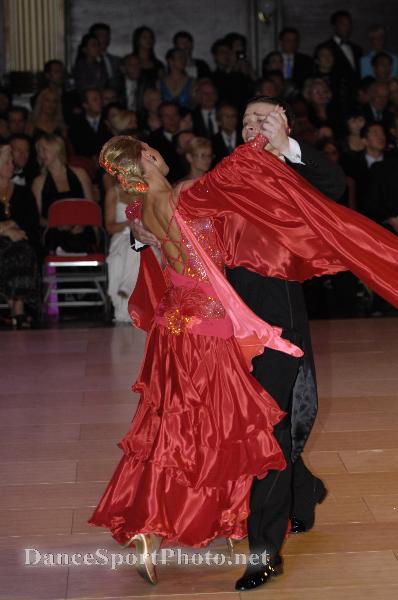 So why, do you wonder, do I waste my time, money and pride on this rubbish?  Because, in this case, it's better than the alternative: showcasing day-glo white legs (and other body parts) and blinding both spectators and officials, alike.  I wish I was exaggerating, but unfortunately, I am that pale.  As some of my coaches have put it, if I'm going to put the money into the lessons, the dresses, the shoes, and the competition, I had better complete the look with the "healthy tan," the perfect hair, flawless makeup, and manicured nails.  See the pretty lady on the right?  I'm supposed to get that colour.
Having a family history of skin cancer, I avoid the tanning beds.  Although a good spray tan can get the job done, it's expensive, and when I need to decide between getting an easy comp tan or eating for a few days, I typically go with the latter.  That leaves me with the goo in a bottle.  Although drugstore products are fairly reasonably priced, they aren't manufactured with the performing arts in mind (and often result in an attractive orange tint), so I visit sketchy online vendors with outdated security certificates and buy special goo.  So far, I've found success with a combination of three products.
I'll begin the near week-long process with Super Braun Classic Self Tanning Liquid, which, until recently, had been discontinued (I just checked danceshopper.com, and suddenly it's available for purchase again.  Yay!).  As close to daily as possible, I apply some of the tanner to a sponge (also available on danceshopper for $3.95 plus tax and shipping) - this stuff has a consistency only marginally thicker than water, so application by hand is out of the question - then apply it to my skin shortly after showering.  Super Braun is a translucent liquid that takes forever to dry, murders my skin and smells like toxic waste - though I've grown accustomed to it - but offers a pretty dark colour in only a few coats.  In addition, there is bronzer in the solution, which serves as a great guideline when tanning.  I rarely miss a spot.  Danceshopper sells 150mL for $29.95 plus tax and shipping.
The night before a competition, and occasionally the morning of, I'll also use Pro Tan Instant Competition Color.  I've never actually bought it.  Instead, I've managed to scavenged half-used bottles from friends who have no longer needed it.  However, it's available on bodybuilding.com in two bottles: 4 fl. Oz. for $10.20 plus shipping, or 8.5 fl. Oz. for $17.40 plus shipping.  Another watery tanner, Pro Tan comes with its own cute little brush for application.  It's a cheap quality, though, so I'll stick to using my own sponge.  Although Pro Tan provides instant dark colour, especially when applied over preexisting colour, most of it washes off in the shower.  With that in mind, I only use it the night before and/ or morning of a comp after showering to keep as much of the colour as possible.  Pro Tan also smells disgusting, and unfortunately, rubs off all too easily on costumes and clothes when I don't wash off the "excess" colour.  Luckily, however, I don't think it stains clothes too much.
The most recent addition to my tanning repertoire is a product of Spray Tanning by Aero Tan, SexSymbol.  This product is a recent fad among both amateur and professional ballroom dancers, and I have to admit, the colour is the most non-orange I've ancountered so far.  The smell isn't atrocious, either.  I buy my Aero Tan from Brian Bercury, a friend of mine, student at Balera, and owner of Take the Lead Dancewear.  A 5.3-Oz. can sells for $22.00 plus tax and shipping.  I spray this product directly onto my skin and rub it on the morning of a competition (in lieu of the morning coat of Pro Tan).  It washes off, and gets all over clothes, but as far as I've found (I've only used it a couple times, so far), it washes out alright.  Some dancers will only tan with this product, but I have tried applying it to my untanned skin and didn't get an impressive result, so I'll only use it if I already have some colour.
I do use a few other products, depending on what what I've finished off and what-not.  Last summer, I stocked up on MAC's Skinsheen Leg Spray in "deep dark."  It's advertised as a bronzing spray for legs, but I'll use it everywhere, save my face, for competitions.  Like Sexsymbol, I can only use it on top of a preexisting layer of tanner and only on that day, since it washes out (although not as easily as SexSymbol, I've found).  It almost has a mousse-y, creamy consistency, and I also apply it directly to my skin.  Like Aero Tan, as far as tanning products go, it doesn't smell half bad.  I hope MAC brings it back for summer 2009.
When I don't have Super Braun onhand, I'll substitute Flash Tan, which, like Super Braun, is available through danceshopper.com.  A 125mL bottle costs $24.95, plus tax and shipping.  I'm actually not a big fan of Flash Tan.  It's not nearly as effective as Super Braun, and although it is a lotion and doesn't dry out my skin as much (or smell as awful, for that matter), it contains no bronzer, so it's tricky for me to apply even coats.  Streaky legs are a common result of this product.  I'm actually working down my inventory (only one bottle left!) and planning on finding another tanner.
In between tanning coats, I try to moisturise with my Victoria's Secret's Ultra-Softening Body Butter from the Secret Garden Collection.  Vickie's sells 7-Oz. tubs for $10.00 plus tax and shipping (or 3 for $24.00 plus tax and shipping, or 5 for $30.00 plus tax and shipping).  I wouldn't have bothered trying this product, but while I worked at Victoria's Secret (which I hated, by the way), I received a complimentary container in order to provide customers with personal testimony.  I grabbed the pear glace, since the smell was the least offensive of the bunch (I can't stand lovespell, and can't understand why it's the most popular scent in the Secret Garden collection).  As it turns out, I actually like using it, and it does reduce the dry skin syndrome.  I guess Vickie's got the personal testimony it wanted.
And on that note, my tanner has just about dried.  I'm off to more productive activities!
Today's Tunes
"Tomorrow Is Such a Long Time," Rod Stewart
"The Alcohol Diary," Keepsake
"The More I See You," Michael Bublé
"Hallelujah," Rufus Wainwright
"Burn Baby Burn," Ash
"Piggies," The Beatles
"He Hates Me," Sarah Johns
"A Distant Episode," Till Brönner
"When the Bells Don't Chime (Banjo Mix)," Brian Setzer
"Let It Rock," Kevin Rudolf & Lil Wayne
"Wonderful Tonight," Eric Clapton
"2 Man Show," Timbaland feat. Elton John
"They Just Want You to Be There," Carly Simon
"Otherside," Red Hot Chili Peppers
"You Are the Sunshine of My Life," Stevie Wonder
"Let's Live It Up," Brian Setzer
"Hey There Delilah," Plain White T's
"When You Wish Upon a Star," Erich Kunzel; Cincinnati Pops Orchestra
"Sway," Dean Martin
"Shout," Tears for Fears
"Sing, Sing, Sing (RSL Remix)," Anita O'Day & RSL
"Say It Like You Mean It," Matchbook Romance
"Goodnight Goodnight," Maroon 5
"The Way to Your Heart," Soulsister
"Stay," Small Sins
Oh well, I was never one for advance planning, anyway.  This semester, I decided to take a break from competitive dancing in order to focus on my classes and job search, but I'll still take the occasional dance class, and I attend Balera's Friday night shindigs religiously.  I'm not totally deprived of rug-cutting.  Today, Johnny and I decided to practise for a little bit, which we haven't really done since November.
After maybe an hour of serious work on Waltz, Johnny was ecstatic.  We were moving smoothly, traveling far, and I was shaping decently, if I do say so myself.  Eager to show me off, Johnny caught Russell's attention: "Hey Russ, check this girl out." ::looks at me:: "Do what you just did," he instructed as he led me into promenade position.  No pressure, now.  I only have my two coaches who are also the studio owners scrutinising me.  Somehow I still managed to repeat the long wall with Johnny, and it was clear that he was still thrilled with me.  Admittedly, I was feeling a bit better about my dancing, but Johnny has been the most positive coach I have ever had, and I do my best not to let his praise get to my head.  Russell, on the other hand, doesn't believe in sugar-coating.  Getting a compliment from him is about as productive as prying the ring from Smeagle's hands (Lord of the Rings reference).  Johnny looked at his business partner with glee.  "Isn't she great?"
"Yeah, she looks good."  I struggled not to collapse then and there.  "So why aren't you competing this weekend!?"
Johnny looked at me.  "Well, I dunno . . . did you want to?"
Now it was my turn to beam.  This weekend is the Eastern United States Dancesport Championships, which, as far as dance competitions go, is down the street from my apartment.  I originally hadn't expressed an interest because of my aforementioned priorities, but that didn't mean that I'd miss competing terribly.  The Eastern is one of four major Boston area competitions throughout the year, and one of its organisers is Billy Morganti, who you may recall from an earlier post this year about my Superbowl adventures.  This one's possibly the largest of the four, and is the only one that actually takes place in Boston (Dancing a la Carte takes place in Chicopee in May, Yankee Classic resides in Cambridge in May, and the Commonwealth Classic is a Lowell comp in November).  If nothing else, it was frustrating to think that I'd be skipping on a local competition.  Once my head had cleared itself of competition anticipation, I had my second thought of the minute:
Oh, (expletive), now I need to tan.
(For those of you who don't ballroom dance, tanning is a vile, yet necessary part of the preparation for competition and performance.  I won't get into it now, but I know what I'll be blogging about tomorrow!)
Tanning aside, I'm pretty psyched for this weekend.  I have to admit that part of the initial allure of ballroom dancing for me was to get all prettied up and to perform for an audience.  As much as I love zipping around with Johnny on Friday nights, it's not the same as the high that accompanies a rehearsed performance.
For those of you who have any interest at spectating at the Eastern, tickets are available for purchase here (and for those of you who have any interest in watching ME dance, I'll be competing in Silver Pro-Am Standard in the A2 division on Friday afternoon at 2.30 and 4.00 P.M. in a sparkly, flourescent red-orange gown).
Eastern United States Dancesport Championships
The tradition comes to Boston!
February 19-22, 2009
The Boston Park Plaza Hotel & Towers
50 Park Plaza at Arlington St.
Boston, MA 02116
(617) 426-2000
http://www.easterndancesport.com/
dance@easterndancesport.com
Tonight's Tunes
"The Ballad of John and Yoko," The Beatles
"I Want to Hold Your Hand," The Beatles
"Here (In Your Arms)," Hellogoodbye
"All of Your Love," Hellogoodbye
"Scenes From an Italian Restaurant," Billy Joel
"She's Always a Woman To Me," Billy Joel
"Your Every Color," Train
"Following Rita," Train
"Last Beautiful Girl," Matchbox Twenty
"Kody," Matchbox Twenty
"Every Breath You Take," The Police
"Murder By Numbers," The Police
"Can't Stop," Red Hot Chili Peppers
"Californication," Red Hot Chili Peppers
For whatever reason, my blog has received a bunch of hits through the search terms "Erminio & Luana" and "Erminio Stefano & Luana Conte."  Admittedly, they were at Balera this past weekend, and I frequently talk about the goings-on at Balera, but I was sick this past week and just didn't get to it.  I don't know if any of you dancing blog surfers will appreciate it, but I'll try to talk about their visit either tonight or tomorrow.
Today's Distraction
4.35 P.M. sunset directly beaming into my eyes . . . ouch
UPDATE: 02.06.09
I know I said I'd update by today, but I've been a bit distracted this evening since learning that my grandfather's in the hospital again.  I have Friday off, and promise on everything I consider holy that I'll post about the past weekend in greater detail later.
Tonight's Distractions
Thoughts of mortality and other terribly unpleasant things
UPDATE: 02.07.09
As promised, I'm finally sitting down to talk about last weekend when Erminio Stefano and Luana Conte coached and performed at Balera.  To sum their talent up quickly, these two are pretty awesome dancers.  To go into a bit more detail (but not too much, since I don't have their exact credentials committed to memory), they were International Standard Champions in their native Italy, 3rd in the United States, and Rising Star Champions at Blackpool Dance Festival (one of the world's most prestigious ballroom competitions).  Not only are they incredibly accomplished dancers, but they are also delightful people as well as friends and coaches of John Nigro.
After what felt like eons of coordinating, Johnny, Erminio and Luana finally found a weekend to visit that worked for most people.  They would coach at Balera on Friday and Saturday, and perform both at the Friday night party and the Saturday night party (a special event to commemorate Chinese New Year).  Admittedly, I was pretty nervous and excited: while I had been doing decently in Standard with Johnny, I hadn't  had the privilege/ humbling experience of having a fresh set of eyes critique my dancing.  Although I looked forward to whatever nuggets of genius that Erminio & Luana had to offer, I also tried to prepare my tender ego for the harshest of critiques.
They arrived Thursday night, or more accurately, very early on Friday morning.  Despite suffering from acute jetlag and having lessons in a matter of hours, they graciously accepted a quick tour of the studio, which they both agreed was stunning.  They finished their tour, and we all went home to get a few hours of sleep before embarking on another exhausting day.
For running on maybe six hours of sleep, both Erminio and Luana seemed to be functioning quite well at 9.30 A.M.  I could only gaze in sleepy eyed awe as I clutched my coffee, trying to wake up.  Luckily I wasn't the first one on the schedule, so I had a couple hours to gather my bearings.  After downing the rest of my coffee, I took it upon myself to take photos of students in their lessons.  I quickly discovered that not everyone likes having his or her picture taken, and I had to swear not to post images of some students (which I've honoured: the photo below is of Johnny in his lesson with Luana).
My first lesson was with Luana.  I had watched her coaching Johnny, and although she did not sugarcoat her criticisms, she was was still very encouraging as a coach.  Still, I was nervous.  I already knew that I slacked on my frame, that my footwork was less than impeccable, and that I didn't shape nearly as much as I could.  Luana smiled and asked what I wanted to work on.  My instinct was to say "Tango," but I looked to Johnny instead.
"How about foxtrot?  I think that's probably your weakest dance."
God, what do you have against me today? He was right, though.  Foxtrot was my weakest dance.  Determined to spend the lesson working on stuff Ididn't already knew I needed to fix, I went to take dance position with Johnny, extending my neck and elbows as far as I thought possible.  Johnny started to move, and I almost stumbled out of nervousness.  I think we got as far as a feather step (the first full figure in our routine) when Luana told us to stop.  I grinned sheepishly as I waited for the onslaught of things I did wrong.  Johnny was befuddled: whenever we danced socially, I moved like a dream (or so he's told me).  Suddenly "rigid" was an understatement.  "What's wrong with you today?  Do you need a drink or something?"  I looked at him skeptically: I'm not usually one for drinks at noon.  Luana was a bit more subtle:
"Let's say that you are the teacher today, and I am your student -"
"God, help me."  She continued with her scenario: I was a ballroom teacher, and she was a brand new student who had never seen ballroom dancing before, did not know a thing about it, but wanted to learn.  What would I discuss?  How would I describe ballroom dancing to someone who had no idea as to what it was?  I thought for a moment.  Perhaps even many moments.  "I suppose I would tell her that, at its core, ballroom dancing was the musical, emotional, and physical interaction between a man and a woman.  After that, I got nothing."  Luana's pokerface told me absolutely nothing, until . . .
"That was actually quite accurate.  Ballroom dancing is about a lady dancing in a man's arms."  I exhaled, and she smiled: "So why do you look like you're dancing with Shrek??"
For most of the rest of the lesson, Luana worked with me on the most basic element ballroom dancing: dancing in the arms of the man, ignoring the frivolities of extension that had been added to the art as it became competitive.  Oh, and we did get to work on tango a little bit at the end, which made my day.
My next lesson was with Erminio.  Carlton and I agreed to work on waltz, since the technique translated easily over to Viennese, foxtrot and quickstep.  Our lesson started off much more successfully than my lesson with Luana had: we managed to get through our entire routine before Erminio jumped in.  His lesson differed from Luana's quite a bit, but was still incredibly enlightening.  Where Luana disregarded the formalised look of frame, Erminio stressed it (however, before Luana's lesson, I had been doing it improperly anyway, so this was my opportunity to fix it).  As he adjusted Carlton's and my frame, not only did we look better, but we moved with less effort.
Obviously, after such productive lessons with such amazing coaches, I'm planning on taking the amateur title in Blackpool this May.  Okay, perhaps not this year, because I'll be on vacation with my family during Blackpool, but definitely next year.  We'll see.
Erminio and Luana have been dancing together for years, but they took a four-year break, and only recently began dancing together again.  You wouldn't know to watch them, though.  We were lucky enough to have them perfrom their second and third shows since partnering up again.  Although they only danced a waltz and a tango, I melted all the same.  Both times I saw it.  They glided across the floor so effortlessly in waltz.  In tango, the staccato looked flawless.  After they left following their final performance on Saturday night, I found myself wondering when they'd be back, and how much I could improve before then.
Okay, that was a terrible wrap-up, and I'm sorry, but my brain is beyond fried today.  Perhaps I'll try polishing it up tomorrow.
Today's Tunes
"Tonight," Kate Walsh
"Nothing Lasts Forever," Maroon 5
"La Pared (Version Acoustica)," Shakira
"How Could I," Marc Anthony
"Younger Than Springtime," South Pacific
"Tell It Like You Mean It," Quantic
"Good Bye, Little Dream, Good Bye," Anything Goes
"Hundred," The Fray
"To Be Loved," Brian Setzer
"Songbird," Eva Cassidy
"Daddy's Little Girl," Michael Bublé
"42," Coldplay
"With This Tear," Celine Dion
"Motorcycle Driveby," Third Eye Blind
"The Cousin of Death," Beastie Boys
"She's Like the Wind," Patrick Swayze & Wendy Fraser
"It's Good to Be in Love," Frou Frou
"Caliph's Mines," Jeff Johnson & Brian Dunning
"Night and Day," Frank Sinatra
"When I'm Sixty-Four," The Beatles
"Try a Little Tenderness," Michael Bublé
"El Tango de Roxanne," Moulin Rouge!
"Somebody to Love," Nelly Furtado
"I'll Be That Girl," Barenaked Ladies
"Quien Como Tu (Remix)," Enzo Diaz
For the record, I would have posted last night, but WordPress was experiencing some technical difficulties, which only served to intensify my love-hate relationship with technology.
So you've made your New Year's resolution.  Perhaps it was to drop the love handles, meet new people, or try a new activity, or perhaps it was a bit more specific.  Perhaps you resolved to learn how to dance.  Regardless, if you're in the Greater Boston area (or around there), I've a solution for your resolution: group classes at Balera School of Ballroom Dance in Newton, MA (and, the crowd goes wild)!
Balera is offering brand new group classes to kick off the new year, and they're open to everyone, regardless of experience level (and no partner is required!).  Learn how to waltz, tango, salsa, cha cha, and hip hop in one of Boston's finest dance venues, boasting a 4000-square-foot suspended floor.  Drop-ins welcome; no pre-registration is required.

Why would I want to take a group class?
Group classes offer affordable dance instruction in a comfortable environment with other people who are at a similar experience level.  You will have the opportunity to dance with multiple people and test what you've just learned while the teacher provides guidance and further instruction.  It is an excellent way to learn new steps and dances, or to hone your skills with steps and dances you've already learned.
Golly, that's swell!  What classes is Balera offering now, and when can I take them?
Classes take place on weeknights after 6.00 P.M.
Beginner Social Dance
When: Mondays, Tuesdays, and Wednesdays, 7.30 P.M.
What: The beginner social dance class is for all experience levels, and is targeted towards those who have had little to no prior encounters with a dance floor.  Students learn how to lead and follow, and steps that will navigate them around the dance floor.
Dances: cha cha, salsa, rumba, merengue, hustle, swing, foxtrot, waltz, tango, and more!
Intermediate Social Dance
When: Wednesdays, 8.15 P.M.
What: if you feel as though you've mastered the basics of social dance, then perhaps it's time to look into an intermediate class.  Participants learn more complicated steps in the dances they've learned in the beginner class.
Dances: cha cha, salsa, rumba, merengue, hustle, swing, foxtrot, waltz, tango, and more!
Bronze American Smooth

When: Mondays, 7.30 P.M.
What: Although a beginner class, Bronze Smooth classes focusing on developing the technical prowess of dancers who want to improve their execution of the American Smooth dances.  It is excellent for competitive dancers as well as beginners who want to solidify their dance foundation.
Dances: Waltz, Tango, Foxtrot
Bronze International Standard
When: Tuesdays, 7.30 P.M.
What: Although a beginner class, Bronze Smooth classes focusing on developing the technical prowess of dancers who want to improve their execution of the International Standard dances.  It is excellent for competitive dancers as well as beginners who want to solidify their dance foundation.
Dances: waltz, tango, foxtrot, quickstep
Advanced American Rhythm
When: Fridays, 7.30 P.M.
What: You're pretty solid in your mambo, or so you think.  Russell Lee Jackson teaches students the details of American Rhythm that will allow them to develop impeccable technique, lead, follow, and styling.  This class is for competitors and serious social dancers.
Dances: cha cha, rumba, swing, bolero, mambo
Hip Hop
When: Mondays, 9.00 P.M.
What: this class is open to all experience levels and abilities, and offers new choreography every week.  Participants have the opportunity to learn the popular dance moves seen in the videos of today's popular tunes.  Be sure to stay hydrated: this class will get your blood pumping!
Showdance
When: Sundays, 11.00 A.M., Wednesdays, 9.00 P.M.
What: home of the former RLJ Formation and Showdance Team, this special 1.5-hour class focuses on the performance aspect of dance.  Participants learn choreography weekly and perform at studio functions.
Dances: all
Beginner Argentine Tango
When: Thursdays, 6.30 P.M.
What: Thursdays belong to Argentine Tango at Balera!  Fernanda Cajide teaches beginning dancers the steps required to navigate their way through their first tanda.  No dance experience required!
Advanced Beginner Argentine Tango
When: Thursdays, 7.45 P.M.
What: Once you've learned the bare essentials of this intimate dance, sharpen your skills further in the advanced beginner class.  This is also a great option for dancers with prior partner dance experience.
Wow!  Those classes look amazing!  Who teaches them?
Russell Lee Jackson

Co-Owner and Co-Founder
Russell hails from Manchester, England and has been deeply involved in dance since the age of 5.  While originally trained in International Latin and Standard and Showdance, Russell has also added American Rhythm and Smooth, Argentine Tango, hip hop, Lindy Hop, salsa and West Coast Swing to his repertoire since coming to the United States in 1996.  He has trained Boston University, Brandeis, Harvard, and MIT's ballroom dance teams and is a Qualified Adjudicator.
Classes: Advanced American Rhythm, Showdance
John Nigro
Co-Owner and Co-Founder

Johnny's role models, some of ballroom's greats (including current coaches Charlotte Jorgensen, Erminio Stefano and Luana Conte) have inspired him to share his enthusiasm, passion and understanding of dance in his teachings.  He believes that dance should not only be expressive, but an enjoyable experience.  Johnny continues to compete in Pro-Am competitions throughout the United States and Canada, and is available for ballroom instruction as well as showcase and competitive choreography.
Classes: Bronze International Standard, Showdance
Fernanda Cajide

Fernanda was born and raised in Buenos Aires.  She inherited the passion for tango from her granfather, an authentic milonguero.  In Buenos Aires, she has danced with some of the finest dancers in today's tango scene and in many popular venues, such as La Cumparcita and El Viejo Almacen.  Fernanda's deep knowledge of the tango salon style makes her a stunning interpreter of the authentic Argentine Tango.
Classes: Beginner Argentine Tango, Advanced Beginner Argentine Tango
Rob Glover

Rob began his dance career at a young age after first attending one of his grandparent's line dance classes in his home town of Liverpool, England.  Since then, he has trained at the Chilterns Stage School and Merseyside Dance & Drama Centre where he studied ballet, tap, jazz, Latin, modern, national, ballroom, disco, double work (pas de deaux), and contemporary.  He has also passed LAMDA and Guildhall examinations in acting and speaking of verse and prose, and has the option to teach.  In addition, Rob's dance repertoire includes poppin', lockin', tickin' and breakin', as well as couples' dancing styles from the 1900s through today.  In 1996, Rob was a chosen contestant on the UK's "Strictly Dance Fever" (known as "So You Think You Can Dance" in the States), and has toured the UK, South Africa, Dubai, Abu Dhabi and London's West End.
Classes: Showdance
Vivian Lessa

Vivian has been dancing since age 12, and has an incredibly diverse background, which includes African, Arabic, ballet, Chinese folk dance, Flamenco, Indian, International Latin, Japanese, Russian and Western.  She has competed in both International Latin and American Rhythm as well as Professional Showdance both in the United States and Internationally.  Vivian's students range from first-time dancers to seasoned competitors who compete at championship levels.
Classes: Bronze American Smooth
What are you waiting for?  Class is in session!
Balera School of Ballroom Dance
105 Rumford Ave.
Newton, MA 02466
617.969.2280
info@baleraballroom.com
Today's Tunes
"Ziggy Stardust," David Bowie
"Fragile," Sting
"Put a Penny In the Slot," Fionn Regan
"Primavera," Santana
"Born Losers," Matthew Good
"October Nights," Yellowcard
"Wish I," Jem
"Dancing With Myself," Nouvelle Vague
"Moving Forward," Bitter:Sweet
"I Don't Want To Wait," Paula Cole
"The Music of the Night," The Phantom of the Opera
"Falling In Love at a Coffee Shop," Landon Pigg
"Pony (It's OK)," Erin McCarley
"Baby's In Black," The Beatles
"In the Middle of the Night," Billy Joel
"Such Great Heights (John Tejada Remix)," The Postal Service
"I've Seen That Face Before (Libertango)," Grace Jones
"Everything," Michael Bublé
"Um Segundo," Bebel Gilberto
"Cracking the Russian Codes," A Beautiful Mind
"If I Could," Seal
"What If?" Coldplay
"Slide," Dido
"Sultanas de Merkaillo," Ojos de Brujo
"Bounce," Timbaland Feat. Dr.Dre, Missy Elliott & Justin Timberlake
"I Will Remember You," Sarah McLachlan
"Ridiculous Thoughts," The Cranberries
"New Light of Tomorrow," Husky Rescue
"Duel of the Fates," Star Wars Episode I: The Phantom Menace
We finally started working on Standard last week, and I couldn't have been more thrilled.  Like many people who began ballroom dancing in college, I competed in every style for which I could convince a guy to tolerate me a few days a week for a couple hours at a time (read: "practise").  Being the charming lass I was, I managed to compete in all four styles, International Latin and Standard, and American Rhythm and Smooth.  It was all good fun for a while, but eventually, finding a college student who wanted to take the dancing a little more seriously proved difficult, and finding a partner who wanted to seriously compete in more than one style proved almost impossible.
I realised that if I ever wanted to seriously improve my dancing, I'd have to look beyond the college students . . . and that I'd probably have to drop at least two, if not three styles.  Although initially displeased with the thought of dancing in only one style, I hoped that I'd find a partner who would at least be interested in expanding his repertoire to 9- or 10-dance (dancing Standard & Latin, or Smooth & Rhythm).
When I asked Carlton if he was looking for a dance partner, I knew he only danced Latin, but I figured I'd ask him about Standard, anyway.  I explained that although I knew competing in all 19 dances was beyond unreasonable, would he be completely opposed to eventually competing in Standard.  Although he didn't seem ecstatic about the idea, he didn't rule it out.  After further discussion of goals and objectives, we decided to dance Latin together.
That was over a year ago.
One year, 13 competitions, several lessons, countless practises, and too many last-minutes performances later, we have come a long way . . . and we have finally taken our first Standard lesson.  I was ectstatic to be working on the most basic of Waltz figures last week.  Johnny had nothing but wonderful things to say as we went over the fundamentals of Standard technique (aside from telling me that if I want to take it seriously, I should wear an appropriate skirt -- it's in the mail!!), and I've been anxious to start dancing again.  Maybe it's because it's been over a year since I've touched Standard.  Maybe I always liked it more than Latin in the first place.  Maybe it's because the dresses are so stunning and every girl has the opportunity to live out her childhood fantasy of looking like a princess.  Maybe it's because our coach was ecstatic during our first lesson and said, "You guys are gonna be amazing" about a million times.  Maybe it's because I see dancing so much more differently than I did when I confined myself to the collegiate circuit.  Who knows?  Regardless, I'm thrilled to have my second chance to DANCE Standard.  I don't know if Carlton really wants to dance Standard, or if he's only doing it to humour me.  I hope it is the former.  Either way, Carlton, thank you!